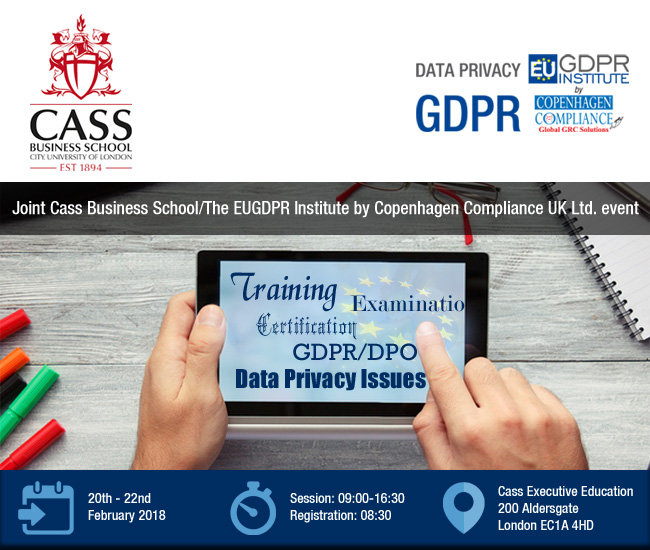 The GDPR essentially creates a new position of the data protection officer in public and many private organisations. Data protection officers will be empowered to independently ensure compliance with the new data protection regime. Even for private organisations not obliged to formally appoint a DPO, there will be a need to develop an experienced and knowledgeable privacy professional to manage compliance and security risks. The GDPR brings many new and stricter requirements challenging the skills of all privacy professionals. DPOs will gain rapid visibility and career opportunities since they are required to report directly to top management. These new roles will be very active in passing the message of controlling privacy risks and monitoring compliance with the requirements (and the benefits) of the new GDPR throughout the organisations.
Be certified after 3 days of intensive training
Independent qualification by the EU GDPR Institute
No jargons: suitable for data protection officers, privacy and security professionals, IT specialists, compliance officers, auditors and consultants
EU GDPR Institute methodology
Holistic approach: Legal + IT + change management
Based on real business scenarios, discussion cases and practical experiences
Provide tools, templates and other giveaways
Quality learning and networking time


GDPR Roadmap & Framework, Data Processor and Controller, Privacy Program, Transfer of Personal Data, Binding Corporate Rules, Anonymisation, Encryption, Big Data


GDPR In Practice, DPIA, Incidence Response, Data Privacy Audits, Code Of Conduct, Scenarios For Data Breach, Contingency Plans


The Role and Responsibility of Data Protection Officer Demonstrate Compliance with the GDPR (article by article) THE On-line Certification is Optional.
Exam 50 questions (multiple choice)
The EU GDPR Institute DPO Professional Training, Examination & Certification
is offered in cooperation with our partners for consultants, managers and administrators in the field of GDPR, Data Privacy and Protection. Individuals wishing to obtain The EUGDPR Institute professional certificate must; study the course materials provided when registration is accepted and complete 3 days of class room training. The examination consists of a multiple-choice test covering a broad range of relevant GDPR knowledge and topics that are dealt with, in this advanced GDPR DPO training course.
Topics covered

in the training and examination

The current EU legal framework including the GDPR Directive and national legislation in practice; Data protection principles and central concepts;
Actors and roles; Data subject rights;
Transfers of personal data, contractual clauses,
Access to documents and data protection;
Binding Corporate Rules, etc.

Data protection supervisory authorities;
Big data, cloud computing, analytics, the internet of things; Data security;
IT-and Cybersecurity;
Privacy by design/default;
Privacy impact assessment;
Data protection audit.
Case law on personal data protection;
Instructor

---

Kersi F Porbunderwalla
Secretary General
Copenhagen Compliance

Taking data protection regime into the 21st century and the role and responsibility of the DPO
The new GDPR framework and need for data protection officer can be useful instruments to implement the fundamental changes many organisations need to streamline their IT and data processes and get full control over their IT platforms and databases. The role of the DPO is vital to facilitate;
Adherence by all parties concerned to an approved code of conduct to achieve GDPR compliance
Demonstrate compliance with the obligations of all stakeholders incl. The Controller and allow data subjects to evaluate the level of data protection of products and services
Implement controls for the exchange of information by electronic means between stakeholders (controllers, processors and supervisory authorities) for binding corporate rules; mutual assistance
Enhance transparency and compliance with GDPR regulation to ensure adequate standards of protection to and by a third party, country or territory or a specified sector within standard GDPR protection clauses; formats and procedures
Price
£990 per person for the 3 day DPO seminar
Every third participant from any specific company will be free of charge. Refcode. 3PF
Who should

attend

DPOs, CIOs/CTOs
Internal Audit Managers and Staff
CISO
IT Security Officers
Information Security Managers
IT Directors and Managers
IT Analysts/IT Auditors
IT and Data Consultants and project managers involved in data protection, information security or cyber security issues
IT and Data Consultants and project managers that participate in GDPR projects.
Individuals with some IT experience who want to qualify on GDPR issues.

Qualification:

Achieve the EU GDPR FAS qualification. The exam (certification) is optional and can be taken the same day on line.


If you have any questions, please do not hesitate to write to
info@eugdpr.institute
Your presence at the seminar is important to us. We look forward to seeing you there.
Sincerely,

By Copenhagen Compliance
---
You have received this information because you are interested in Governance, Risk Management, Compliance, (GRC) IT Security or one of the GRC components. To unsubscribe please click here

Need help? Email | Call us +45 2121 0616 | www.eugdpr.institute/


About us
The EUGDPR Institute by Copenhagen Compliance® UK Ltd. is the global Governance, Risk Management, Compliance and IT Security (GRC) think tank. As a privately held professional services firm, the mission is the advancement of the corporate ability to govern across the borders, sector, geography, and constituency. The primary aim is to help companies and individuals achieve integrated data privacy and IT Security issues that unlocks the company ethics, cultures and value by optimising GRC issues to IT-Security & automation thru templates, roadmaps, & frameworks. For details please see
www.eugdpr.institute